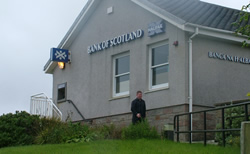 There are a limited amount of banks and cash machines available, it is recommended that you take ready cash with you, or when you visit a bank make sure you take out enough to keep you for your stay.
Some of the larger hotels will allow you to get cash back or cash a cheque, please be sure to ask first.
Below is a brief guide to banks and cash machines in the Uists.